As the internet world continues to grow, people rely more and more on Google to find the answers to there most dire questions. Google is becoming a large influencer on how users discover products and services near them and with the rise of mobile technology, people expect answers at their fingertips. Google My Business will put you in a position to increase visibility, impressions, traffic and sales.  
With the world shifting to digital means, it is even more important now than ever for a business owner to create a Google My Business. There are so many benefits and rewards and it is so easy to do! Let's talk more about what exactly Google My Business is and the benefits you gain for your business. 
What is Google My Business?
Google My Business is a free and easy-to-use tool by Google for businesses to manage their online presence across Google. This includes Search and Maps. This is a big deal, especially if you think about the fact that 86% of users look up the location of a business on Google Maps. If you are just getting started with local SEO, this is a great place to start. It's where you can add your business name, location, and hours for searchers to see on the search engine result page. It also allows you to monitor and reply to customer reviews, add photos, and learn how and where people are searching for you. Still not sure why it's important to have a Google My Business? Let's talk about all the benefits you get!
What are the Benefits of Google My Business?
Cost-Effective 
Google my business is a free business listing on one of the largest search engines on the internet. Setting up yours will market your business to many potential customers, that are already looking for your product, at no cost. There are other listings that you could use but all of those come at a price. 
Visibility on Search and Maps
Using Google My Business will significantly increase your visibility on the internet by giving you prime real estate. It puts you in three ideal locations when someone searches for your business – Google's Sidebar, the local 3 pack results, and Google Maps.
Google's Sidebar: When you search a business by name, it shows up in Google's Sidebar. It shows all the important information about the company like name, location, phone number, and even shows reviews and busy times.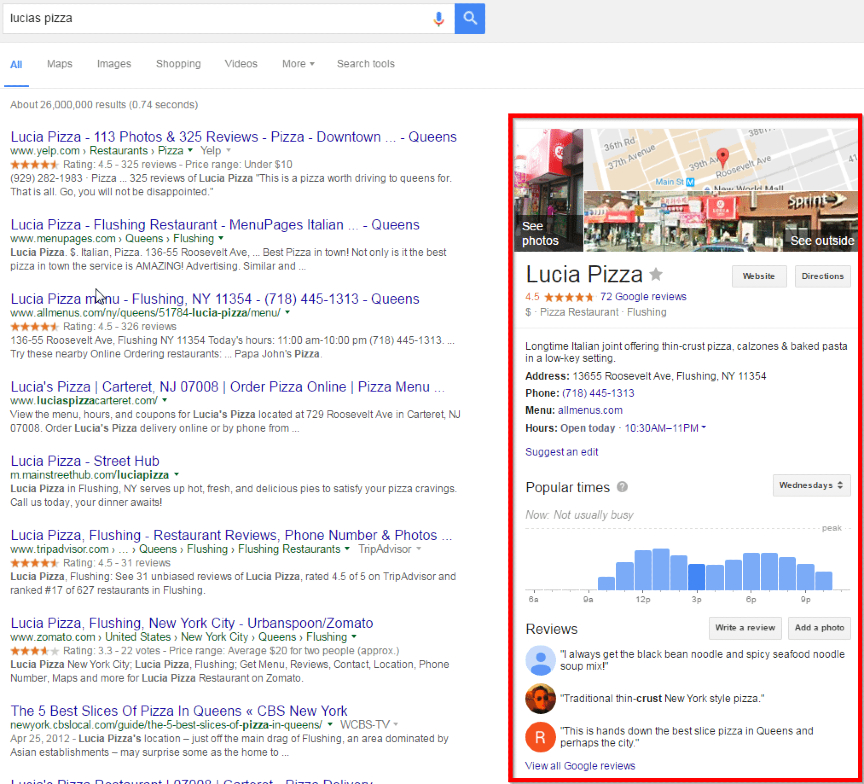 Local 3 Pack Results: This section of Google's search results shows three local businesses closest to the geographical location of the searcher when they search for a business. When someone searches keywords related to your business, this information can be displayed as well.  The restaurants below have their address, description, category, reviews, and pictures all from their Google My Business page. 

Google Maps: Another place that your business shows when you get a Google MY Business account is Google maps. When someone searches a business on their phone or computer through maps, it is likely that they are looking to visit a store. Ensuring that your information is up to date and accessable to the user through Google Maps, helps the user contact or find directions to your business easily. 

Collect, Monitor and Manage Online Reviews
Business reviews are a crucial component of any business and SEO strategy. Consumers trust online reviews as much as personal recommendations. So, it is important to provide a platform where users can see your online reviews from the beginning. With Google My Business, you will be able to collect, monitor and reply to reviews in your account. As long as you are providing excellent service and quality products, you'll collect review after review and increase your rating. This can give you a competitive edge over other local businesses. 
Boost traffic and Sales
What more needs to be said? A big challenge of local businesses is keeping a steady flow of traffic coming in its doors. With Google My Business, you dramatically increase your visibility online and put your business in the hands of searchers looking for your type of business. This increases the amount of traffic you see online and in stores which leads to more sales! 
Insights
Navigating to the "insights" section in Google My Business will give you the data you need to improve your efforts further. This analytics data shows you exactly how and when customers are finding you, who they are, and how they are engaging with your business. With this data, you can tweak campaigns to improve visibility further. No matter what you sell, the more you know about your consumers, the better you can appeal to them. 
Google Posts
Another great perk that comes with a Google My Business account is the ability to create "posts" or content to promote offers, news, events, product updates and announcements. To provide businesses even more ways to keep in touch with potential customers, these show up on Google Search and Maps. Consider what you want to encourage customers to do when using these posts. Do you want to drive them to your physical store front or raise awareness about a sale or promotion?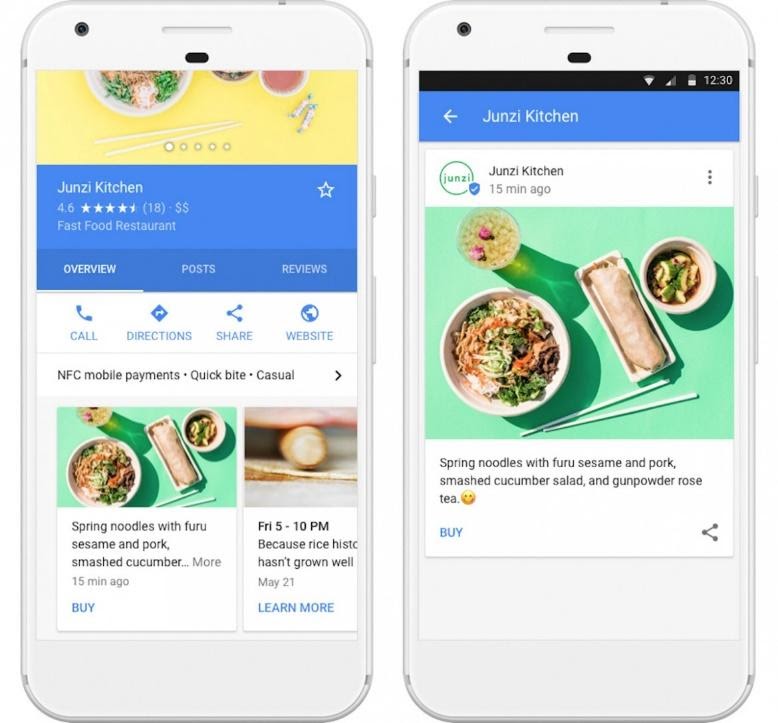 Bottom Line
Toss out the yellow pages and list your business on Google My Business to reach potential customers every day with the click of a button! It provides a powerful way to gauge how your business is doing throughout the year and lets you zero in on what is working. No matter what product or service you sell, there are so many benefits to gain from this listing and it is absolutely free for your use. Gain visibility, boost traffic and sales, and collect those reviews with ease. Claiming your profile is an easy first step in building your online presence and visibility. Check out how you can set up your Google My Business Account in a matter of minutes in our guide below. 
How to Set Up Google My Business
Setting up Google My Business is an easy way to get more visibility and traffic and the ease of the process makes setting one up a no-brainer. 
To start, go to Google My Business and sign in to your Google Account or create one

Enter the name of your business, business location, and choose if you want your location to appear on Google Maps

From here, you can enter your business address. If you don't serve customers at your business address, you can add your address and click "I deliver goods and services to my customers"

List the services that you offer

You can use the search field to select your business's category and then enter a phone number or website URL for your business 

Once you are all done you can click "Finish" to complete the sign up

Confirm all your business's information is correct and you are all done!
Now your business is verified, and you are all set to increase visibility and drive traffic online. If you want access on the go, download the Google My Business Mobile app to access your account and update business information anywhere you are.