Table of Contents
The Internet presents a special opportunity for rehab centers and treatment facilities looking to boost local leads. Today, many people turn to the Internet to ask questions, sometimes even sensitive and personal questions — and your rehab center wants to appear at the top of results when they search for your services.
How can your rehab center dominate local search results and reach more searchers in your community?
Local search engine optimization (SEO) helps you connect with more local leads and provide the information they need to contact your rehab center. In this guide, we'll discuss what local SEO is, its impact on your rehab center's Internet marketing, and some pro tips to keep in mind.
Keep reading to learn more about strategies to drive local leads, or contact us today to speak with a local SEO expert!
What is local SEO for rehab centers?
Traditional SEO focuses on optimizing your website and creating relevant content, so your site appears at the top of search results for keywords related to your rehab center and services. Local SEO uses many of the same optimization strategies, but it focuses on connecting you with leads in your geographic area.
For example, if a user searches "drug treatment facilities in Little Rock, Arkansas," they will see rehab center listings in the geographic area of Little Rock and the surrounding areas.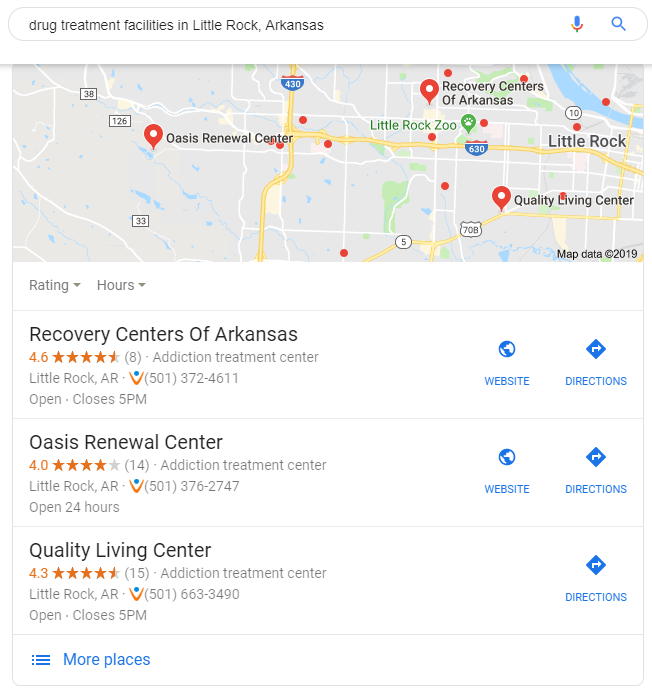 Further, optimizing for local SEO will improve your rankings even when a geographic location is not part of the search query. For example, if the same searcher from the above example searches from his or her phone while in Little Rock, Arkansas, they will still get local results, even without including "Little Rock, Arkansas" in the query.
The key takeaway is that Google analyzes a wide variety of factors when determining your rehab center's rankings. For this reason, it's important to make local SEO part of your long-term marketing strategy in order to maintain top rankings.
Benefits of Local SEO for rehab centers
Now that you understand the basics of local SEO, let's take a look at how the strategy benefits rehab centers like yours.
Here are three top benefits of local SEO for rehab centers:
4 out of 5 consumers utilize local search, according to Google. It's clear that consumers search for local information on businesses in their area. Targeting potential patients in your local area drive valuable and relevant leads.
50% of users will visit a business within a day after searching locally. Local searchers are likely to take action, so it's important to capitalize on this opportunity.
90% of consumers read online reviews before visiting a business. Relevant and visible local search results improve your rehab center's online reputation.
With local SEO, you're not trying to advertise to searchers  across the country or even the world for services you only offer in your state. It's possible that someone on the other end of the world finds your website, but you really want to focus your efforts on the person down the street, who is much more likely to convert. For this focus, local SEO is an excellent tool to connect with target clients in your local area.
Additionally, many consumers value shopping local, and are more likely to support businesses in their area. In fact, 90% of Americans shop at a small, local businesses at least once a week.

5 factors that influence local SEO rankings for rehab centers
Next, lets take a look at five key factors that can impact your rehab center's local SEO rankings.
1. Your rehab center's website content
Content on your website is a fundamental element of traditional SEO, so by optimizing your current content and future content for local users, you're increasing the ROI of your marketing investment.
If you already use traditional SEO, your rehab center can make a huge impact by tweaking your existing content so that it ranks for local searchers. Content that includes geographic keywords and provides answers to locally relevant questions will connect your local users, and ultimately results in higher visibility online, higher search rankings, and more leads!